Course details
【Same day reservation OK!】 Sun - Thu limited only 3 items + 2H with all you can drink 2500 yen !!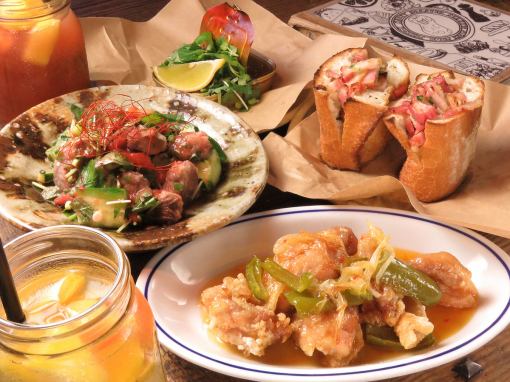 By using a coupon2500 Yen
All-you-can-drink available

Non-alcohol rich ♪ ♪ It is a plan with an all-you-can-drink plan for 180 minutes ♪
Reservation deadline

Coming to the store until the desired date of the day 17
Available days for reservation

Monday - Sunday - Public holidays - Holidays
Recommended for those who want to enjoy drinks suddenly, ♪ Recommended ♪ 2 hour drinks and all three items at 2,500 yen! Please order on arrival at the day or reserve by advance reservation ★
Course menu
<Three snacks>
● Avocado and tuna wasabi with soy sauce
● French fries
● Another product, enjoy · · ♪
※ cuisine content is an example.Please understand that we may change.
All-you-can-drink menu
· ★ Beer & Wine & Whisky ★
· [Beer] Sapporo raw · Barrel Guinness 【White】 Tee wood 【Champagne】 Monteverrobrut 【Whisky】 Bourbon · Scotch
· ★ Cocktail ★
· 【Cream】 banana cream milk / strawberry / godiva · baileys 【Cassis】 cassis soda / oolong / orange 【Gin】 jinricky / apple / bag / tonic
· ★ Cocktail ★
· [Vodka] Moscone Comme · Vodka Grapefruit · Bulldog · Bloody Mary 【Beer】 Chandigaf · Panache · Red Eye
· ★ Cocktail ★
· 【Tequila】 Tequila Sunrise · Matador · Mexicana 【Wine】 Wine Cooler · Kitty 【Ram】 Rum Coke / Tonic · Cuba River 【
· ★ Cocktail ★
· Campari】 Campari Grape / Orange / Oolong 【Fruity】 Mango Ginger · Valencia 【Dita】 Dita Tonic / Grape
· ★ Shochu & Nihon ★
· 【Shochu】 potato · wheat · brown sugar · tea ceremony 【Umesyu】 plum wine soda 【Nihonsyu】
· ★ Virgin-cocktail ★
· Apple Phrase · Cinderella · Sportsman · Grenadin Milk
· ★ Soft drink ★
· Grapefruits · Orange · oolong tea · cola · ginger ale · tomato · apple · pine
Coupons that can be used with this course
2018/09/06 update